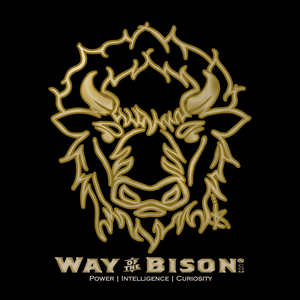 Welcome to Way of the Bison Lifestyle Website and Online Shop
Way of the Bison is an aspirational brand and lifestyle shop outfitting a mindset of power, intelligence and curiosity. Qualities this majestic creature manifests daily.
Evolving from a children's book about money, the Way of the Bison is a website and movement for those wishing to be, have and do more with their lives and identify with the qualities of this magical beast.
Join us as we:
Learn about the Bison
Be motivated and inspired by this creature daily
Work to protect and preserve its herds and habitat
And do it by displaying the
Way of the Bison Credo Collection
every day.
Remember to follow us on social media so you can connect with other like-minded individuals, entrepreneurs and leaders and be inspired with our story, quotes and Charity Spotlights.
Thank you for being a part of the Way of the Bison Lifestyle.
Way of the Bison Team
Power | Intelligence | Curiosity
---